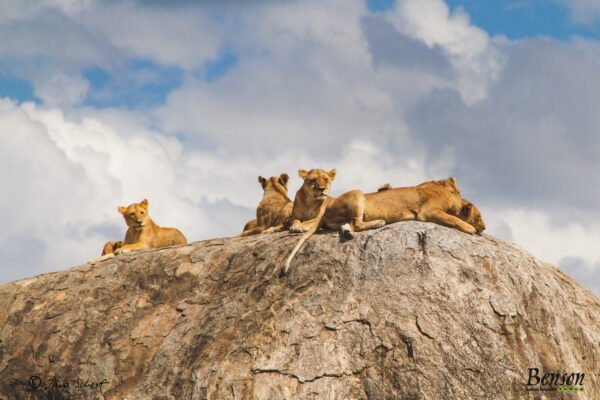 The Best of Tanzania – 10 Days Safari
Safari Tansania, Tanzania, Serengeti
Highlights of your trip:
Experience the elephants and centuries-old baobab trees of Tarangire
Visit the wild, remote and eerily beautiful Lake Natron
Meet the Maasai and learn about the beliefs and traditions of this nomadic tribe
Experience the vastness of the world-famous Serengeti
Search for the elusive Big 5 in the Ngorongoro Crater
Experience the life of the Hadazbe Bushmen in Lake Eyasi
Discover the tree-climbing lions of Lake Manyara
Enjoy the comfort of a lodge in the heart of the Tanzanian bush
This safari takes you through Tarangire National Park, Lake Natron, Serengeti National Park, Ngorongoro Crater, Lake Eyasi & Lake Manyara National Park: this is the best way to get to know northern Tanzania.
This trip offers you middle class accommodations (lodges)
For better readability, we use the masculine address in this itinerary.
Day 1: Arrival, Arusha
Welcome to Tanzania. Upon arrival at Kilimanjaro International Airport, you will be met by a representative from Benson Safaris Tanzania and transferred to your lodge where the rest of the day is at leisure. Rest in your room, enjoy a dip in the pool or explore Arusha and the surrounding area on one of our day tours - the choice is yours.
Overnight - Ilboru Safari Lodge, Arusha
Day 2: Tarangire National Park
After breakfast, drive to Tarangire National Park for a full day game drive. Tarangire is one of Africa's little known jewels and should be on the itinerary of all lovers of wilderness and solitude. Its name comes from the Tarangire River that crosses the park and is the only source of water during the dry season.
Tarangire's landscape is incredibly diverse, offering a mix not found anywhere else on northern safari routes. It is dotted with ancient baobab trees, believed by the Maasai to be the first trees in creation, and large termite mounds. In the dry season, the harsh sun sucks moisture from the landscape and bakes the earth a dusty red, while the rainy season produces dense bush and lush tall grasses.
It is famous for its large elephant population and is home to zebra, wildebeest, giraffe, water buffalo, baboon, pygmy mongoose, impala, buffalo, antelope and East African oryx. Predators include lion, cheetah and leopard. The swamps are shared by flocks of birds; green wood hoops, turtle doves, great egrets, white-bellied warblers and giant kingfishers. On drier ground you will find the giant bustard and the heaviest of the birds, the ostrich.
Overnight - Sangaiwe Tented Lodge, Tarangire National Park
Upgrade - Tarangire Safari Lodge, Tarangire National Park.
Meals: Breakfast, lunch, dinner
Day 3: Lake Natron
Today you will drive to Lake Natron. It is wild and remote and is located at the foot of Africa's only active volcano, Oldoinyo Lengai, known to the local Maasai as the 'Mountain of God'. The area around Lake Natron offers some of the most rugged and stunning scenery in Africa and is absolutely breathtaking.
Along with your guide, you will be accompanied by a local Maasai guide and walk up to the Engero Sero waterfalls. Through the shady gorge you can reach a beautiful natural swimming pool. This is surrounded by steep rock walls covered by cascading spring water. Here you will have the opportunity to swim, of course.
Overnight - Camp Lake Natron, Lake Natron
Meals: Breakfast, lunch, dinner
Day 4: Lake Natron
Lake Natron is one of the most alkaline lakes in the world. Home to millions of tiny crustaceans, the lake is a haven for literally thousands of flamingos and one of the most important flamingo breeding grounds on earth. It is the scenery rather than the animals that is the attraction here. The area around the lake is arid, barren and eerily beautiful.
After breakfast, hike through the baked mud to the shore of the large salt lake. From here you can look back at the unforgettable view of Oldoinyo Lengai among rolling hills and flat plains. The ash-gray color is a reminder that it is still an active volcano. After lunch, drive to Karatu where you will spend the night.
Overnight - Bougainvillea Safari Lodge, Karatu.
Meals: Breakfast, lunch, dinner
Day 5: Serengeti National Park
Today you will drive to the Serengeti National Park, one of the best game parks in Africa. As you drive through the Ngorongoro Conservation Area towards the Serengeti, you will experience the vastness of this area. You will marvel at the diversity of wildlife and birdlife as you travel through this acacia savanna.
Day 6: Serengeti National Park
Today venture deeper into the world famous Serengeti on a full day game drive.
Overnight - Kati Kati Tented Camp, Serengeti National Park.
Meals: Breakfast, lunch, dinner
Day 7: Ngorongoro Crater
Today you will be rewarded with a full day game drive in the breathtaking Ngorongoro Crater, which was designated a UNESCO World Heritage Site in 1979 and is one of the only places on earth where man and wildlife exist in harmony. Ngorongoro Crater is famous for Africa's best game viewing due to the permanent water supply on the crater floor.
Upon arrival at the rim of the crater, descend 610 meters into the crater where your safari proper begins. Spot the endangered black rhino as well as wildebeest, buffalo, zebra, eland, Grant's and Thomson's gazelles and of course giant tusked elephants. The crater also has the largest known population of lions and you will also find leopards and cheetahs as well as scavengers such as spotted hyenas, jackals and rare wild dogs. More than 500 bird species have been recorded in the Ngorongoro Conservation Area, including white pelicans and flamingos.
In the late afternoon, drive to Lake Eyasi where you will spend the night.
Overnight - Kisima Ngeda tented camp, Lake Eyasi.
Meals: Breakfast, lunch, dinner
Day 8: Lake Eyasi
This morning, meet your local guide and visit the Hadzabe Bushmen and Datoga tribe together. Join them as they go about their daily activities of hunting and gathering. You will visit the area where they gather fruits and roots and find water in the dry season, as well as the caves they call home.
In the afternoon, return to your camp where you will have the rest of the day at leisure. Swim in the pool which offers a refreshing break from the dusty conditions, enjoy a cool drink at the bar or relax on your private balcony overlooking the lake.
Overnight - Kisima Ngeda Tented Camp, Lake Eyasi.
Meals: Breakfast, lunch, dinner
Day 9: Lake Manyara National Park
Today you will visit Lake Manyara National Park for a full day game drive. Lake Manyara stretches along the Rift Valley plateau and is home to giant fig trees, acacia forests, mahogany trees and grassy floodplains. The contrasts of this area are simply breathtaking with its open plains, huge escarpments, salt lake, dense forests and distant volcanic peaks coming together in an area Ernest Hemingway described as 'the most beautiful I have seen in Africa.'
Animals such as large buffalo, wildebeest, giraffe, mongoose, dik diks and zebra congregate on the grassy plains, while the narrow belt of acacia forest is home to elephants and tree-climbing lions.
Lake Manyara provides the perfect introduction to Tanzania's birdlife, with more than 400 species. Highlights include thousands of pink flamingos on their constant migration as well as other large water birds such as pelicans, cormorants and storks.
Return to Arusha in the late afternoon for your final evening.
Overnight - Ilboru Safari Lodge, Arusha
Meals: Breakfast, lunch
Day 10: Departure, Arusha
Today you will be transferred to the airport.
Meals: Breakfast
Price per person:
$ 5,550 USD based on 1 traveler.
$ 3,845 USD per person based on 2 travelers
$ 3,365 USD per person, based on 3 travelers
$ 2,905 USD per person based on 4 travelers
$ 2,805 USD per person, based on 5 travelers
$ 2,620 USD per person, based on 6 travelers
$ 2,590 USD per person, based on 7 travelers
Would you like a different type of accommodation?
We also offer accommodations in the heart of Arusha as well as in alternative budget or 5-star hotels and coffee lodges. Please ask us for more information.
Add dinner in Arusha:
Add dinner in Arusha on evenings 1 and 9 at Ilboru Safari Lodge, Arusha for $30 USD per person.
Your safari includes:
Arrival transfer from Kilimanjaro/Arusha airport to the hotel
English speaking driver guide (other languages available upon request)
Customized extended four-wheel drive safari Land Cruiser with open roof, refrigerator and inverter
Accommodation as indicated
Meals as indicated (B-breakfast, L-lunch, D-dinner)
Drinks during game drives (1 bottle of water and 2 soft drinks per person per safari day. Drinks can be substituted according to your preference)
Unlimited game drives including park and vehicle entrance fees
Local guide and activities in Lake Natron
Visit to a Maasai village
Local guide and activities in Lake Eyasi
Departure transfer from hotel to Kilimanjaro/Arusha airport
All current government fees and taxes
Your safari does not include:
Drinks at hotels, lodges and tented camps unless otherwise specified
Tipping
Tipping is an expected, but not mandatory, part of any African safari. We are often asked for tipping guidelines and we recommend 10-15 USD for your guide per person per day. This is one of the most direct ways you can invite to make a positive economic impact within the East African community. Although it may not be common for you, it is of significant importance to the people you will be guiding during your trip as it is an important source of income for those involved in tourism.
Optional: Beverage Packages
Add beer and wine to your safari for only $50 per person. The package includes 1 beer per person per safari day and 1 bottle of wine per car per safari day.
Please refer to our general terms and conditions (Term & Condition), which you will receive from us upon request. You can also take them from your personal travel experience at the end of your offer.
Contact Information
Eyasisee, Karatu, Arusha, Nordzone, Tansania